If you came to this page via a link, you may be looking for today's comic.
(Note 10:11pm... our host had a minor network problem for about two hours today. Our apologies if you couldn't access the site.)
Namesakes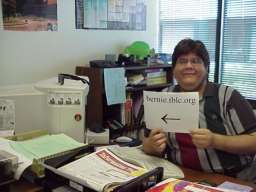 A note from loyal reader Ben Ostrowsky:
Well, it's official: Bernie has been accorded the ultimate in geek honors by having a computer named after her. Yes, that's "Looks Great!" on the left, and Avalon on the right. And, of course, the budgiedog pin.
We're still taking applications for other characters.